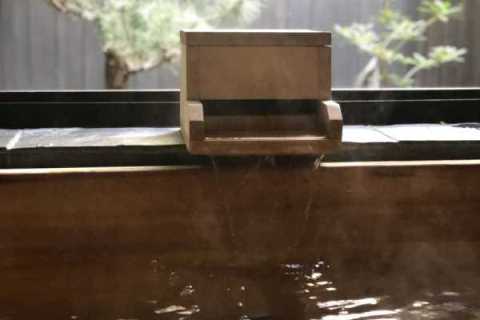 As our lives are becoming more busy each day, we need to find a way to rejuvenate and reserve some private time for ourselves. Watashi no Hi ( My Day ) is our way of providing that special time. Unwind in true Japanese style by soaking in our Hinoki Bath. This package is for two hours and includes a one hour relaxing bath booking.
It is available for a maximum of 2 people at a time. Unfortunately, due to the layout of Gojyuan and the proximity of our pond, we are unable to take bookings for babies or children under the age of 16.
Each booking is exclusive - you will not be sharing with other guests.
On arrival you will be served tea and a complentary Japanese dessert in our guestroom. At your leisure, you can change into yukata and enter our bath house to enjoy our hinoki bath.
It is very important you do not bring any facial products/treatments into our bath
Hinoki Bath
Our bath house is located beside the koi pond and overlooks a private garden.
It was purposely built for Gojyuan by a Japanese company called Hinoki Soken in Nakatsugawa (Gifu Prefecture). Hinoki is a Japanese Cypress, native to Central Japan and is much revered for its smell, straight grain and soft touch. We were very fortunate to visit the factory in the Kiso valley in April 2012.
Etiquette for Japanese Bathing
Japanese baths are for soaking and relaxing - not cleaning the body.
The first step is to thoroughly clean your body and this is done outside of the bath tub. Stools are provided to wash while seated, but if you prefer, the shower arm is adjustable and can be used standing up.
It is very important that you rinse off all soap and shampoo before stepping into the bath tub for a nice, relaxing soak. Please do not put cloths or buckets in the bath.
A slatted hinoki cover is placed over the bath when not in use to maintain the water temperature and to prevent evaporation. The water from our bath is pumped through a sanitation, filtration and heating system.
Please do not enter our bath if you have open wounds, infection or bleeding
Package Availability
Tuesday - 10am - 12pm, 1pm - 3pm, 4pm - 6pm
Wednesday - 10am - 12pm, 1pm - 3pm
Cost per session
1st January, 2023 until 31st December, 2023
1-2 people - $286.00
Please make sure to select the correct number of people attending.
It is very important to read our Terms and Conditions before making a booking.